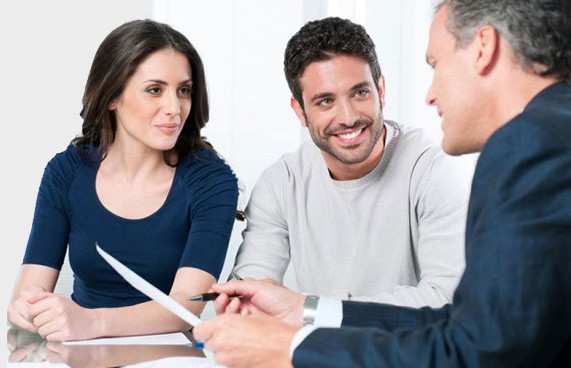 Workers Compensation in Western Australia is a mandatory, no-fault, legislative insurance scheme that can provide medical and/or financial assistance to a Western Australian employee who suffers a work-related injury causing incapacity or death:
The Workers' Compensation and Injury Management Act 1981 (WA) ('Act) dictates the rights and obligations of the employer, injured worker and the worker's compensation insurer. The Act also sets up the managing authority WorkCover WA and the subsidiary legislation sets the rules for all parties including the Conciliation and Arbitration services.
In Western Australia, your employer is required by law to hold workers compensation insurance (or be a registered self-insurer) to cover the cost of wages (weekly payments), medical treatment and rehabilitation (statutory expenses) while you continue to have an incapacity.
The definition of 'injury' is wide and does not necessarily require a specific incident (accident) as a pre-existing condition that is aggravated or accelerated as a result of your work may also entitle you to workers compensation.
Anvil Legal can help you to get all of the compensation you deserve through the worker's compensation WA legislative scheme. As employers are required by this scheme to hold workers compensation insurance an injured worker has entitlements under the Workers Compensation and Injury Management Act 1981 for weekly payments (wages) and medical treatment.
Once your claim has been accepted you may be entitled to:
Weekly payments (wages) for periods of incapacity; and/or
Reasonable medical expenses
Our Process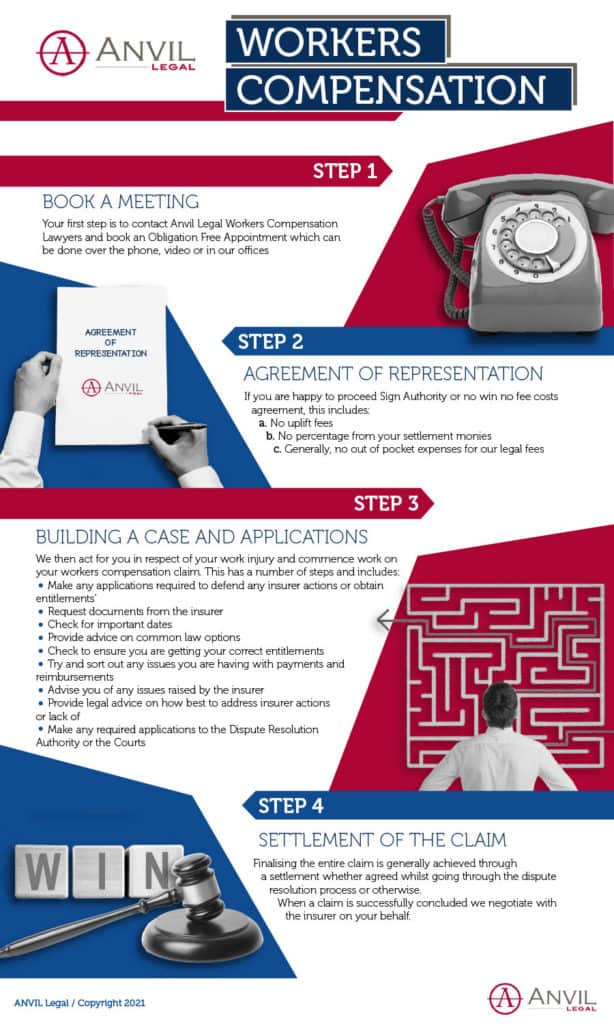 Understanding Your Rights under the Workers Compensation WA Scheme
The Act provides the entitlements and obligations that an injured worker can expect following the making of a workers compensation claim in WA. Although the Act is written with the purpose of protecting an injured worker it is not the easiest piece of legislation to understand.
Anvil Legal has experience in providing advice on the worker's compensation WA businesses are required to hold as a safety net for employees. We understand the burden a workplace injury can have on both you and your family and therefore we offer assistance and advice that may alleviate any stress associated with the legislative processes.
Through a clearer understanding of the law and its application to the injured worker, we can assist with WorkCover applications and Common Law claims to make sure you receive your entitlements and comply with any obligations.
As one of the very few dedicated workers compensation lawyers Perth has to offer, we understand what you are going through and want to see you get all the compensation you are entitled to.
By contacting Anvil Legal Workers Compensation Lawyers for a free phone consultation we can explain how some workers compensation WA cases have changed how the legislation is now interpreted.
What Can You Do To Protect Yourself Now
While the information in these pages is relevant to your claim you could speak to a lawyer obligation free and at no cost instead of spending the next week looking around the web for more concise information.
It's easy, you can call us on 08 6143 5200 or fill out an enquiry form here and we would be happy to discuss your claim, at no cost to you, over the phone or at your free appointment.
We guarantee that you will not have to pay for your consultation and if you are eligible for our No Win No Fee Solution* (as most work injuries are) we can continue to help you through the life of your claim without you having to pay for our legal advice out of your own pocket.
If you have already spoken to other lawyers about workers compensation and they haven't been able to take on your claim please give us a call to see if we can help you.
Workers Compensation Claim Form Guide
Frequently Asked Questions
Disclaimer – All the responses above are very general in nature and should not be relied on to any extent if you want to get a clear answer to any queries you should seek good legal advice.